Happy End of the 2020-2021 School Year!
Congratulations on making it through the one of the most challenging and often mournful school years we've had as a community. Undoubtedly it was only made possible by sacrifice, perseverance, and, perhaps most importantly, mutual support between co-workers, students, and parents.
Last week we celebrated this year with each other. Students and parents had distanced promotion parades on the last day of school. We got to celebrate our students' growth together. Amidst this celebration, we are immensely grateful for the massive support parents offered parents and support staff in the formation of our union. We had many wonderful conversations about making our school the best it can be: lowering class sizes, guaranteeing prep-time, and retaining our staff year to year. Seeing so many parents place our poster in the windshield of their cars as they paraded was truly a special moment for all of us.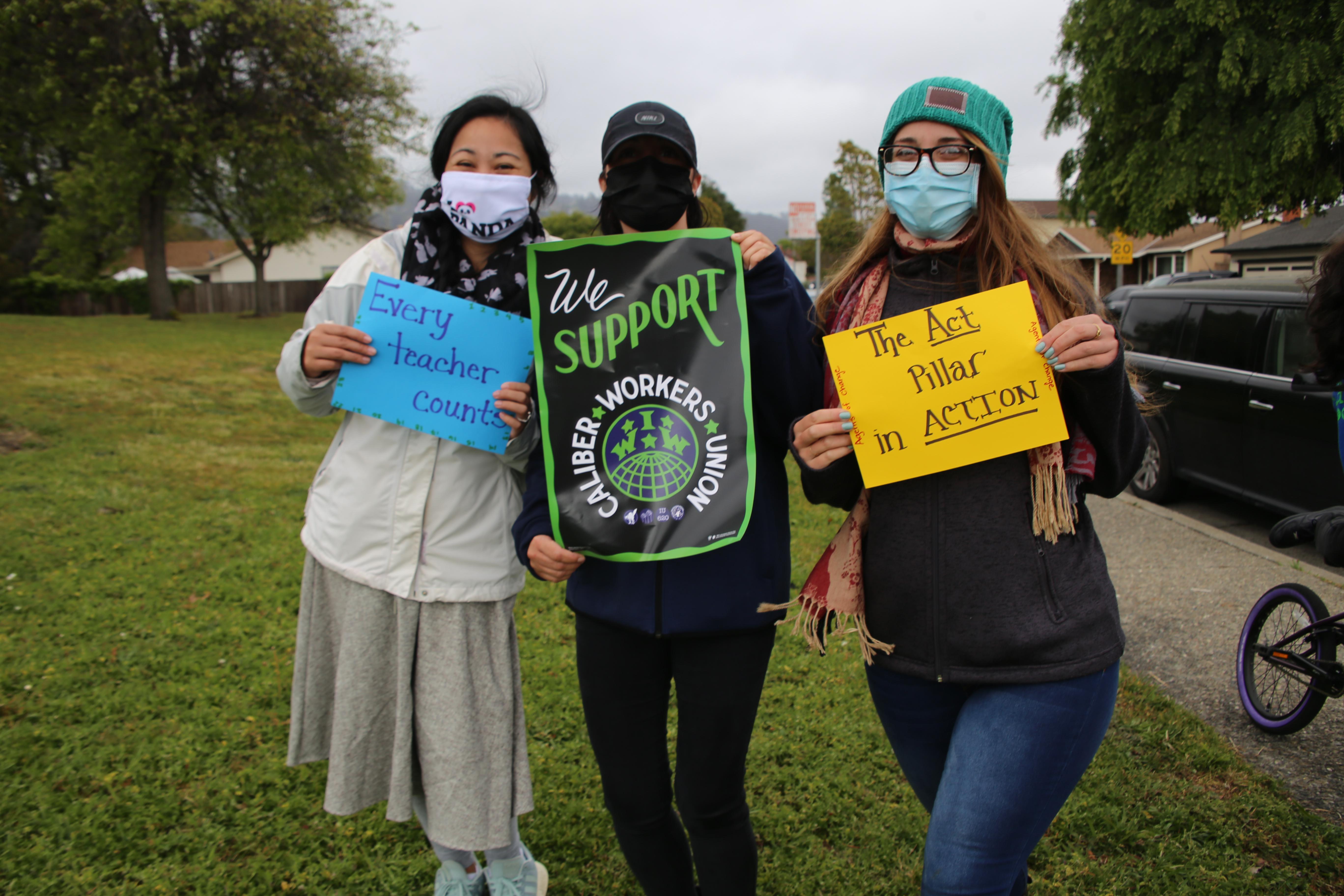 As we begin our break, gear up for summer school, or continue supporting Caliber on campus throughout the summer, teachers and support staff deserve an incomparable congratulations. Through the myriad roles we took on (within and outside of your job description) we supported students, families, and each other through circumstances previously unimaginable to us. On top of all we did for our school, and for ourselves and our families, we took part in unionizing for the betterment of our working conditions and students' learning conditions. During one of the toughest years many of us have faced, we brought the extra courage, resolve, and dedication needed to build a new system in our school. Thanks to all of us, our community made it through this past school year and our school will be a fairer, more representative place in the years to come.
Hourly Support Staff have officially filed for certification with an overwhelming majority of support! Management has complied and notified that they have received the petition and have until June 21 to provide their a list of non-management workers they think should be included in the union. Hourly support staff, please reply so we can figure out a new meeting time that fits our schedule.
We held an incredible rally attended by teachers, support staff, union siblings, families, and students in support of forming a wall-to-wall union of ALL Caliber Workers at Caliber: Beta Academy. We supported each other in response to bogus disciplinary charges, listened and acted on grievances facing staff, and fliered parents who honked and voiced their support of the Caliber community's union at promotion ceremonies last week. Truly it is only together, that we are a union. Each and everyone's contributions collectively make it, because it is only when we all come together that our voices can be heard.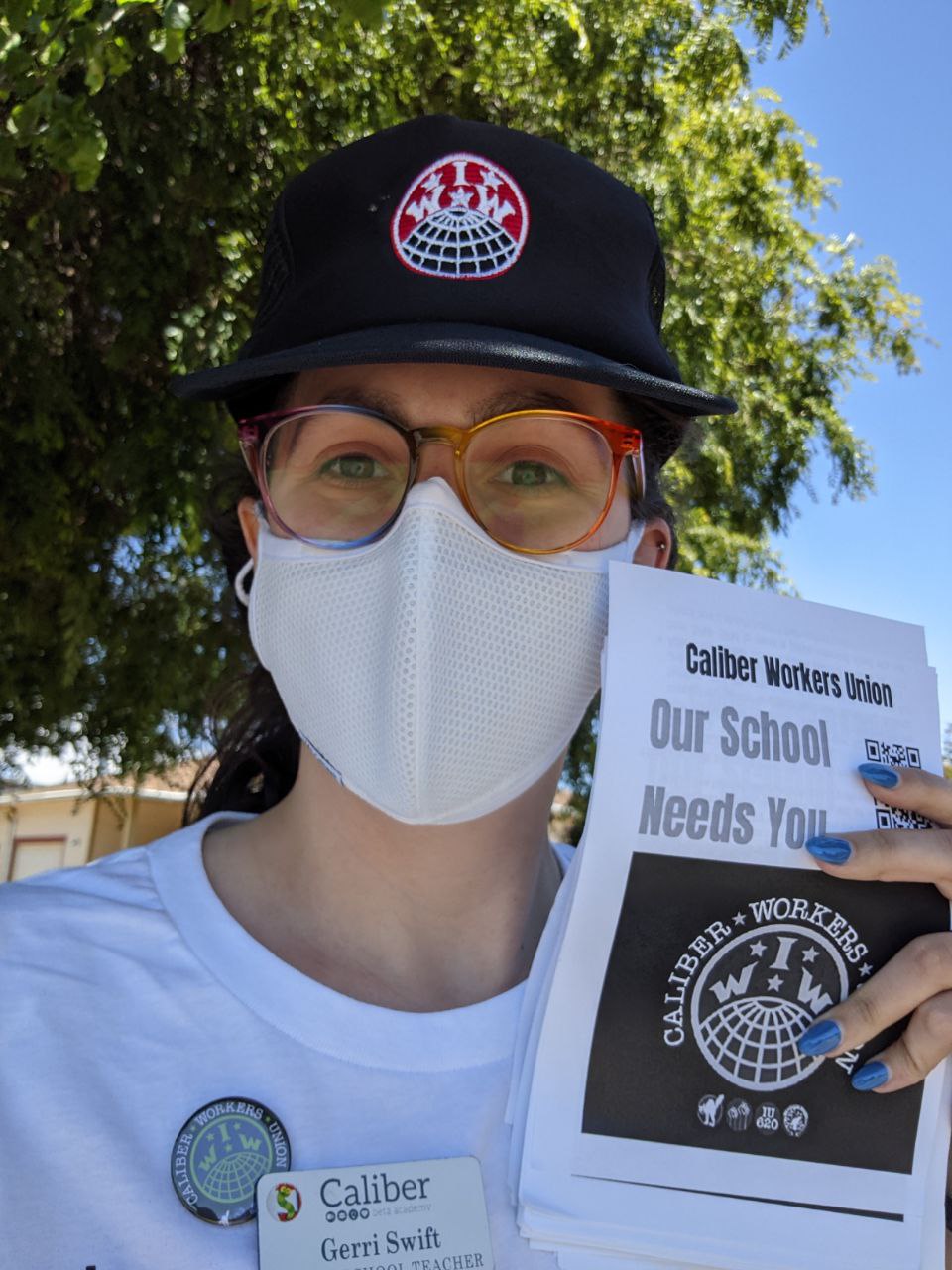 Next Caliber Public Schools Board Meeting Union
June 24th from 3:00 - 5:00
All union members, employees, and families are encouraged to come to show support and speak during public comment. More details to come.
Organizer Training & Bargaining Training
The IWW will be hosting Organizer Trainings to go over the basics of organizing conversations, building support, and using our legal right to unionize and defend each other on the job when problems arise. These trainings will be scheduled tentatively for the month of August open to any union members. Hopefully we can work out the best dates to fit folks' summer plans and needed rest!
Once we have formally elected our bargaining team we will also need to work out a time with our elected team to learn the basics of bargaining and what we need to do to win a historic first contract for Caliber: Beta Academy workers.